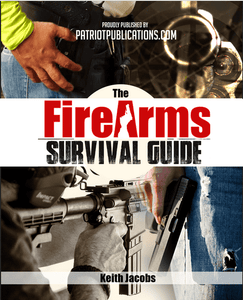 The Firearms Survival Guide (Printed Book)
Today's Price:

$1499

$14.99
---
---
Let's take a quick look at what's included in this Home Firearm Survival Guide.
• A little-known loophole to Buy & Sell "Unregistered" firearms in all 50 states…This is a loophole gun grabbers desperately want closed!
• How to Custom Build Your Very Own AR-15 Survival Rifle …All for Pennies on the Dollar Compared to Buying One Retail!
• The ONE Loophole for Purchasing a Specific Component of Your AR-15 that Makes it "Off the Books" … Meaning They Won't Appear on ANY Government Registries and You Won't Have to Undergo a Background Check.
• Two Diffferent Step-by-step Methods for Building Your AR-15: The Beginner or "Common Man's AR Build" and the More Advanced "CNC … This means practically anyone of any skill level can do it!
• How to Have Complete Ammo Independence…Meaning You'll have ALL the Ammo You Need During Shortages or After a Major Crisis or Disaster!
• One method to Legally Buy and Sell Firearms without Background Checks or Records of Sale (this technique works in most states!).
• The 7 Reasons You Should Start Reloading Your Ammunition Today (a couple of these will blow your mind!)
• 16 Things to Consider Before You Start Reloading (Know this Information is the Difference Between Success and Failure when Reloading!).
• You'll Learn 21 Places Around Your Home to Hide Your Guns and Ammo so Invaders Can't Find Them… Plus 6 Places to NEVER Hide Your Firearms Unless You Want them to be Taken!
• One "Black Ops" Technique to Make Intruders Go Away Thinking They've Found Your Stash…While Your Best Guns are Hidden and Ready to Use at a Moment's Notice!
Plus Much, Much More Valuable Firearms Survival Tips, Loopholes and Information!