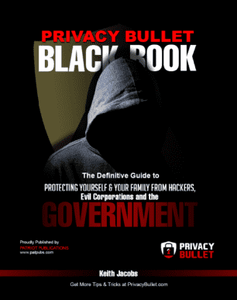 Privacy Bullet Blackbook (Printed Book)
Today's Price:

$1499

$14.99
---
---
This Book Reveals How to Prevent the NSA, Corporations and Criminal Hackers from Spying On You!
INSIDE you will discover things like:
• How to remove one piece of tracking software on your computer that over 70% of websites install without your consent that tracks your movements on the Internet!
• How to LOCK DOWN your social media accounts and email to ensure only the people you want to see your information can access it!
• The 6 Steps you must take today to SECURE your privacy on your cell phone...And I've got you covered whether you're an iPhone or Android user!
• How to ensure your financial data remains secure EVERY time you make a purchase online!
• The 4 signs your computer has been hacked: if you notice any of these signs, STOP what you're doing and get help immediately!
• How to order Google to remove pictures and details of your house from its online Maps service (by default every home gets included, this is a huge privacy risk)
• 5 tips to strengthen your Wi-Fi connection and make it hacker-proof
• How to create unique, iron-clad passwords for every account you own without having to remember them…EVER AGAIN
• The 9-step emergency protocol you must execute if you ever get hacked
• Edward Snowden's tips for browsing the internet anonymously (love him or hate him – these tips helped him escape from the NSA)
• One unbelievably simple "trick" to conceal your identity and your children's identity online from strangers
And many, many other tips on securing your data and privacy regardless of what computer, phone or gadget you are using to connect to the Internet.