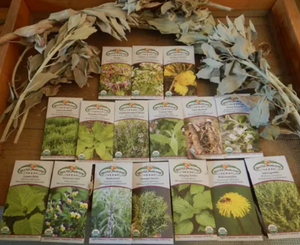 Extra Essentials Medicinals Garden Seed Kit
Today's Price:

$4995

$49.95
---
---
 Grab this Additional Medicinal Seed Kit to Turbocharge Your Backyard Apothecary!
Get ready to be blown away by the Extra-Essentials Medicinals Seed Set! We've handpicked 16 color illustrated seed packets loaded with 100% certified organic seeds, destined to supercharge your garden!
This collection is jam-packed with potent healing herbs, carefully selected to give you a powerhouse of flavor and wellness. It's a game changer for gardeners and herbalists everywhere!
Check out the jaw-dropping lineup:
Ashwagandha
Borage
Cilantro
Evening Primrose
Genovese Basil
Broadleaf Plantain
English Broadleaf Thyme
Garden Sage
Gobo Burdock
Greek Oregano
Lemon Balm
Heartsease Violet
Motherwort
Summer Savory
Stinging Nettles
Wild Dandelion
16 full-sized, certified organically grown, color seed packets are waiting for you to unleash their magic in your garden! Don't let this opportunity slip through your fingers – grab your Ultimate Organic Medicinal Herb Seed Collection today and transform your garden into a potent paradise of healing and flavor!
Buy today and save 65% OFF the retail price. That comes out to just $3.12 per healing seed packet!