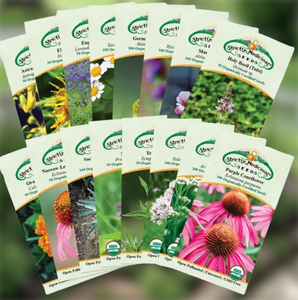 Essential Medicinals Garden Seed Kit
Today's Price:

$4995

$49.95
---
---
 Grab this Essential Medicinal Seed Pack Bundle and Start Your Very Own Backyard Pharmacy!
Introducing the Essential Medicinals Garden Seed Kit: A blazing bundle of 16 full-size, 100% organic, color illustrated seed packets that'll knock your socks off!
Picture this: a garden teeming with vibrant, healing herbs, handpicked to give you a jaw-dropping mix of usefulness and beauty. This collection is THE ultimate gift for your favorite herbalist – it's the gift of life, the gift of light, and a magical link to our ancestors' healing ways.
Feast your eyes on this incredible lineup:
Astragalus (Huang-qi)
Orange Calendula
German Chamomile
True Comfrey
Echinacea angustifolia (Narrow-leaved Coneflower)
Echinacea purpurea (Purple Coneflower)
Elecampane
English Lavender
Feverfew
Hyssop
Marshmallow
White Sage
Self Heal
Temperate Tulsi (Holy Basil)
Valerian
Yarrow
16 full-sized, certified organically grown, color seed packets just waiting to transform your garden into an herbalist's paradise. Don't wait – grab your Essential Medicinals Garden Seed Kit today and ignite your garden with the power of healing herbs!
Buy today and save 65% OFF the retail price. That's just $3.13 per pack of these organically certified healing seeds.