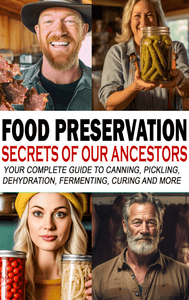 Food Preservation Secrets Book
Today's Price:

$1499

$14.99
---
---
In A World On The Brink Of Chaos, Self-Reliance Is Your Key To Survival. "Food Preservation Secrets Of Our Ancestors"
Is A Guidebook Revealing Lost Techniques Of Food Preservation, Like Canning, Jarring, Dehydration, And More. Learn To Harness Nature's Bounty, Ensure Your Family's Survival, And Sidestep Government Intervention And Supply Chain Disruptions.
You'll Gain Invaluable Knowledge, Peace Of Mind, And Independence From Overpriced Survival Foods. Don't Be A Victim Of Circumstance - Claim Your Future And Protect Your Loved Ones With Timeless Wisdom That Cannot Be Seized. Prepare More, Fear Less, And Ensure Your Survival With This Indispensable Guidebook.
​​Discover the #1 secret technique to preserve any food

 

– fail to master it and your survival is at risk (Hint: it's NOT freezing or dehydration)
​Unearth the lost art of canning and jarring

 

– and why it's the key to long-term food security
​​A comprehensive guide to dehydration – your ticket to preserving nutritional value while extending shelf life

​​​The ancient science of pickling

 

– a method that not only preserves food but also enhances its nutritional profile

​​Decipher the mysteries of fermentation

 

and why this ancestral method can help promote gut health in survival situations
​The long-forgotten practice of curing

 

– a time-tested way to make your meat last for months, even years

​​Why creating your own preserved food stockpile is far superior to store-bought survival food

 

(it's not just about cost)

​​Know the types of food best suited for each preservation method

 

– learning this will significantly increase your food storage efficiency

​Recipes for 50 Survival "Meals in a Jar"

 

that your family will LOVE and will last a long time!

 Plus Much, Much More!